Maccaferri Environmental Solutions Pvt. Ltd.
COASTAL PROTECTION WORKS USING GEOTEXTILE TUBES IN KOCHI (PETRONET)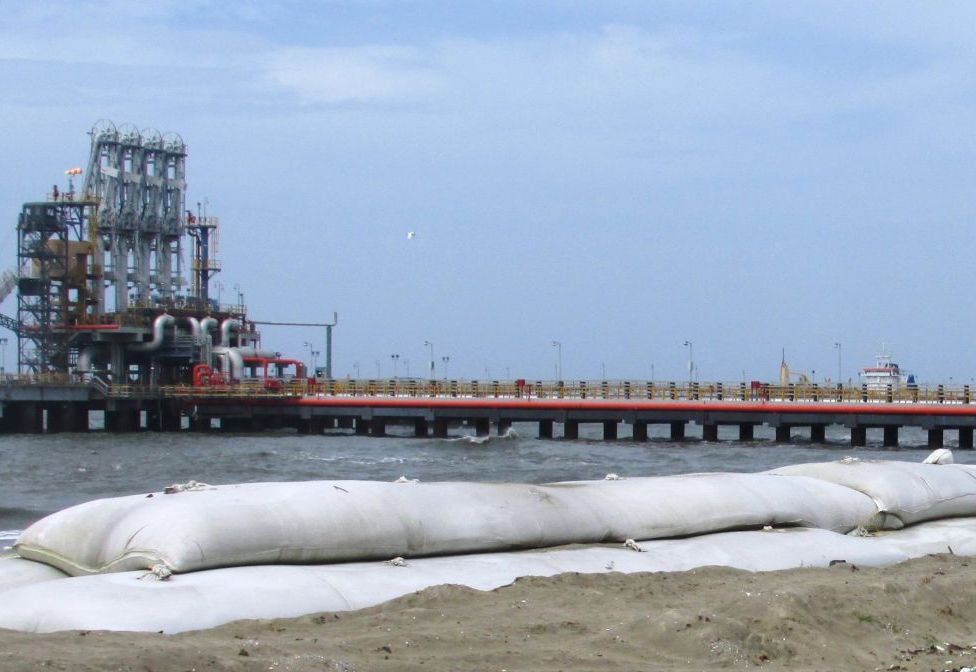 After construction of 500 m long protection bund structure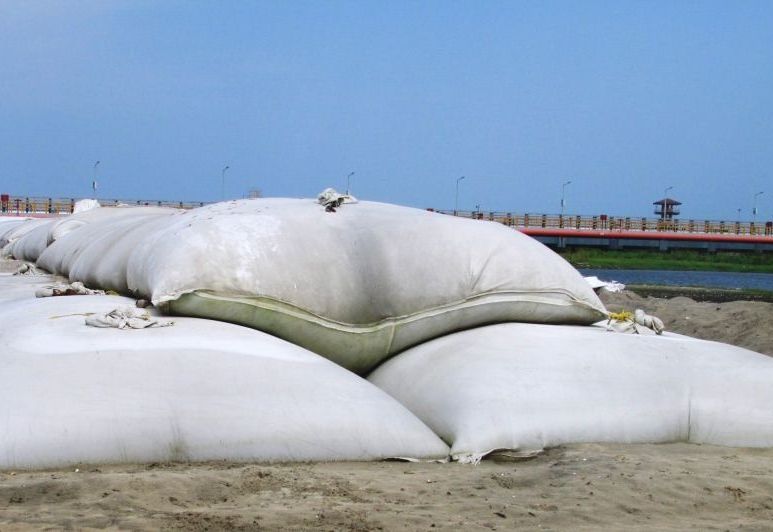 Protection bund structure
Petronet LNG Ltd. terminal at Puthuvypeen, Kochi has a capacity of 5 MMPTA which meets the enormous demand of natural gas for power, fertilizers, petrochemicals and various other industries in southern states of India. Halting of ships at the receiving trestle was facing problem due to accumulation of enormous amount of silt in the trestle zone. The amount of money and time spent on dredging of accumulated silt in the vicinity of trestle was huge, besides being a repetitive activity. So, the main objective of the project was to provide long term solution for achieving required tranquility at the LNG Jetty, reduce siltation and protect beach from the erosion.
Existing rubble mound breakwater was planned to be extended towards sea by about 500m using geotextile tubes (MacTube). The purpose was to reduce the siltation in the LNG basin. A Protection Bund of length about 500m was planned using MacTube and geotextile bags (MacBag) at the back of LNG basin to prevent the erosion of beach. Protection bund restricted the progressive movement of the high tide line towards LNG basin. A Groyne of 150 m was constructed using MacTube to trap the silt that gets drifted and accumulated in the trestle zone. Groyne structure installed in parallel with trestle restricted the movement of the silt. Groyne is provided to trap the silt which may get deposited in trestle area. The installation of the onshore structures groyne and protection bund structure was easy. For the breakwater structure, the tubes were to be installed 1m underwater near shore and 3.5m underwater offshore. The equipment's such as hydraulic pump, booster pump, hooper arrangement were used for the installation purpose. The alignment of the breakwater was in wave breaking zone. Hence, it was found difficult to deploy the tubes. Achieved Benefits:
Reduced the siltation at trestle location by the installing combination of the structures.
The system posed characteristics of sustainability and Eco Friendliness.
Aesthetically Pleasing.
Ease in the Installation, hence time consumed is less.
Monolithic, Versatile and Flexible in nature. The project is completed successfully overcoming all the challenges.