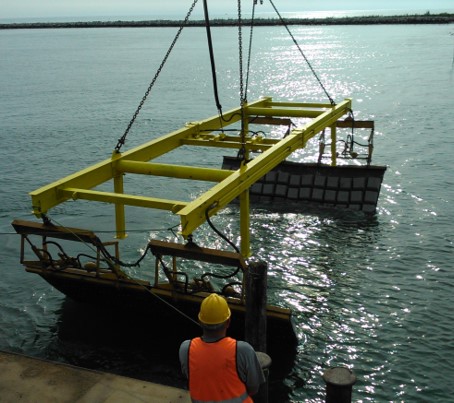 Over the past years, Maccaferri has invested in research and development of new innovative products for the seabed stabilisation.
The modern engineering world is becoming more concerned about this topic. Progressive investments have been made in the port sector, aimed at upgrading existing port facilities and increasing cargo traffic: as a result, large volumes of marine sediment are being dredged to lower the seabed allowing large container ships to dock. These interventions raised an issue: engineering structures are needed to guarantee stable seabeds, avoiding the lifting of the bottom material.
We developed a protection system for the stabilisation of seabed and for shoreline protection. SubMac is a flexible mattress, made of a geotextile coupled with a geogrid reinforcement ballasted with concrete blocks, made integral with it by means of anchoring devices. SubMac is available in different sizes and thicknesses, in order to better adapt to its final use. Our SubMac has been tested in accordance with the recommendations of Det Norske Veritas DNV-RP-F107 and can resist by up to 100% greater than the maximum advised energy.
What we can do with SubMac