Vertical Walls with Concrete Facing Panels
SECTOR 62 ,GURGAON - HARYANA - India
M/s. PIONEER URBAN LAND AND INFRASTRUCTURE LTD.
CONSTRUCTION OF RS WALLS FOR ANCILLARY BUILDINGS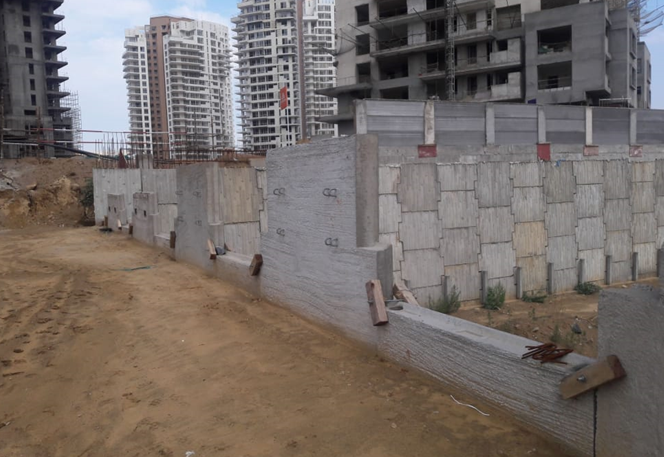 PANELS ERECTED DURING CONSTRUCTION FOR CONNECTING WITH SOLID COMPOUND WALL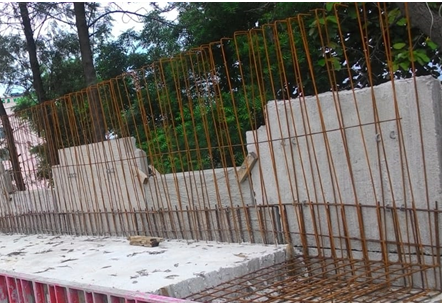 CONSTRUCTION OF RCC WALL & ITS CONNECTION WITH PRECAST FASCIA PANEL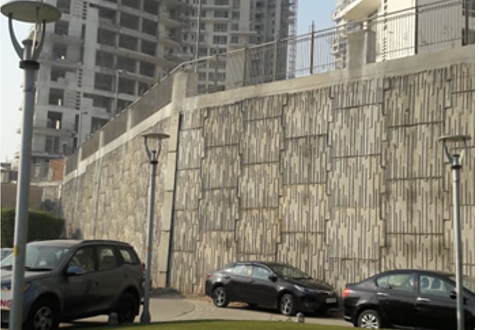 COMPLETE VIEW OF RS WALL & BUILDINGS CONSTRUCTED OVER FORMATION LEVEL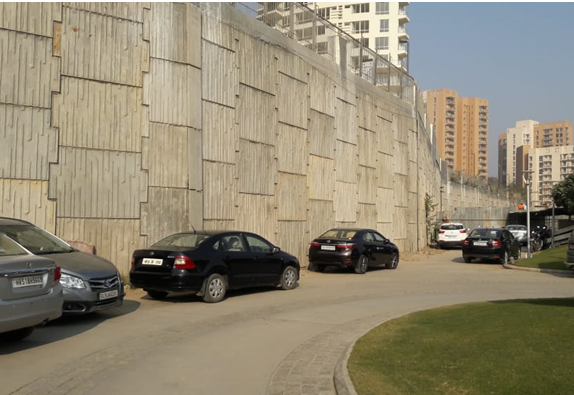 COMPLETED REINFORCED SOIL WITH SPECIAL AESTHETIC FINISH
M/s. Pioneer Urban Land and Infrastructure Ltd. had proposed to construct a residential housing(Presedia and Araya buildings) at Pioneer Park in Sector-62,Gurgaon, Haryana. As per the landscaping plan, the internal roads along the Presedia and Aarya buildings of the Pioneer park is 7.0m to 8.6m above the existing ground level. The client needed to retain the soil along the boundary of these buildings to reach the internal road level. It was decided that Reinforced Soil (RS) Wall shall be constructed to retain the filled-up soil from ground level to 3.0m below Internal road level and to retain the 3.0 m top earth fill, RCC retaining wall will be built above the RS Wall. Finally, a compound wall shall be constructed at the top, above the retention structure. As RS Wall was proposed in the residential area, client required an aesthetically pleasing fascia option.
RS Wall system (MacRes) with precast concrete panels as fascia and Paraweb as reinforcement was proposed to the contractor for the above problem due to its economy, flexibility, speed of construction, aesthetic finish and long term performance. Macdrain drainage composite was used behind the RS Wall as an alternate to conventional gravel drainage layer for internal drainage purpose. Cruciform shaped fascia panels with special aesthetics were used. The connection between the panels and Paraweb was done by cavity connector casted in the panels. Locally available fill with angle of internal friction of 28 degree was used as reinforced & retained fill. The maximum height of the RS Wall is 5.6m. An additional surcharge height of 3.0m due to construction of Reinforced Cement Concrete (RCC) wall over RS Wall was considered in the design. RCC retaining wall was designed by the client. In order to have the uniform aesthetic finish for the entire height, precast fascia panels with same aesthetic pattern as of RS wall were attached to the RCC retaining wall with help steel loops casted in panels
Used Products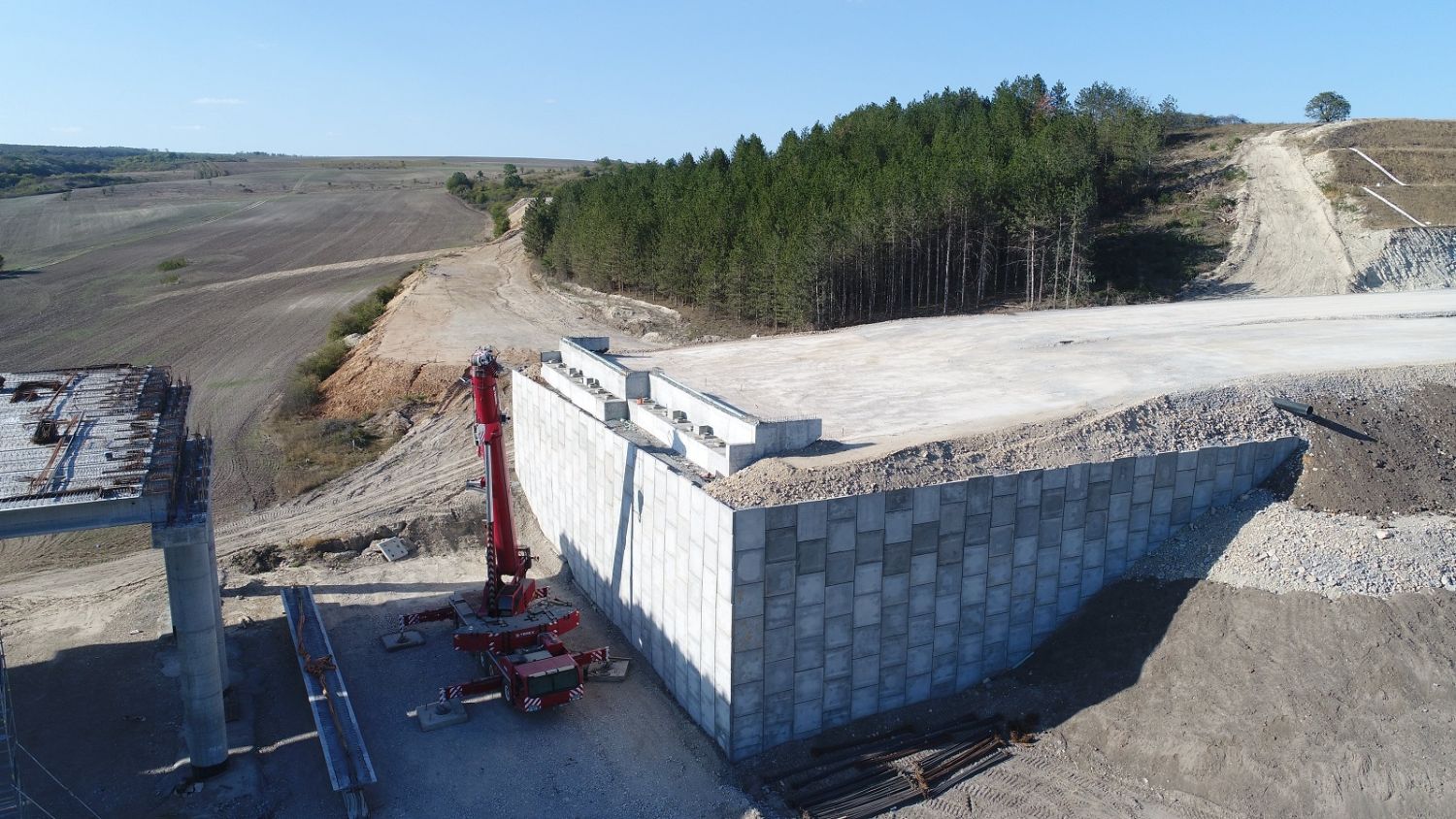 MACRES
The Maccaferri MacRes system features vertical discrete precast concrete facing panels and layers of ParaWeb reinforcement, planar geostrips manufa
View