21 July 2022
Maccaferri blends with art: Chambéry project
A complex engineering project related to a motorway interchange carried out by Maccaferri in France has been decorated with a painting of a natural landscape
In 2021, close to the Alps, in Chambéry (France), Maccaferri has been involved in a project, at the junction of the motorways coming from Lyon and from Grenoble, leading to Annecy / Geneva (CH).
Before the intervention, the area was characterized by heavy traffic and thus needed a new organizational system. The intervention was far from being easy because the space was limited and the main insertion way was passing over a road and then over a railway path.
Maccaferri proposed the full package: design, supply and installation of the two solutions. Seven walls in soil reinforcement system were built, two in MacRes™ and five in Mineral Terramesh™. Indeed, the main trait of the project is the application of Mineral Terramesh,™ a unique and simple solution to install soil reinforcement system with a sloping rock face finish. This solution was chosen because of its modern, clean-faced aesthetic.
The uniqueness of this motorway trait lies in the outstanding painting, realized by a professional studio in Lyon, and commissioned by the final client. It took five intense weeks of work to realize the painting. The masterpiece pictures a natural landscape, with green hills, animals, and a stream, reminding the concept of nature and wildness. In this way, people driving along the motorway can find themselves surrounded by a symbolic forest, giving them a sensation of being fully immersed in a calm and serene environment.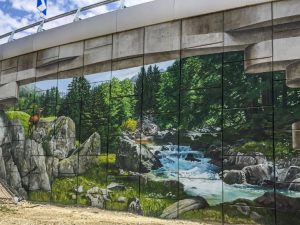 In line with the Company's objectives of sustainable and resilient infrastructures, the project led to a series of benefits and improvements for the structure. In particular, the stability of the walls is justified according to EC7 labels, a European standard related to geotechnical design. Additionally, Mineral Terramesh™ components have a design life of 120 years, as required in very important concrete structures such as larger bridges and tunnels. Durability is also granted by the geosynthetic reinforcement that can support heavy loads and seismic actions. The long-life duration of the materials is one of the main goals that Maccaferri seeks to achieve in its solutions and projects.
TECHNICAL HIGHLIGHTS
2,850 m² of Mineral Terramesh™ 87°
7,000 m² of ParaGrid™ 50
8,800 m² of ParaGrid™ 100
441 m² of MacRes™ panels
7,700 ml of ParaWeb™ MD 36
1,800 ml of ParaWeb™ 2D30