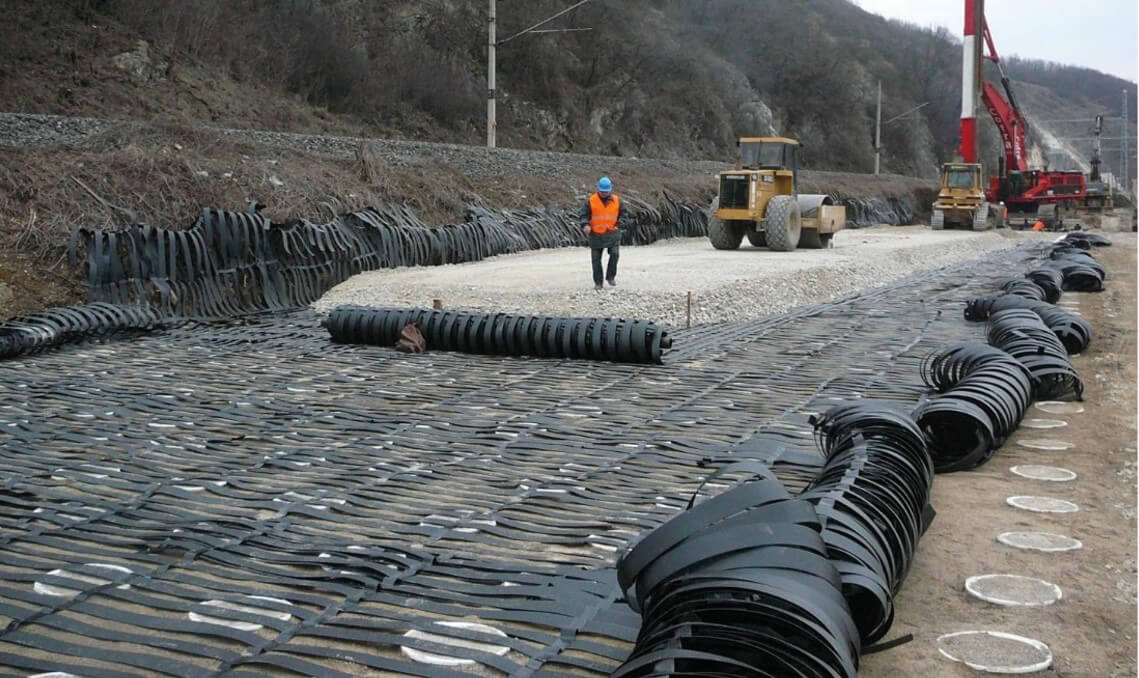 There are many situations where it is necessary to limit the vertical settlement of an embankment, due to the consolidation of a soft foundation. For example:
Thick layers of soft soil can generally be problematic, as well as differential settlement
Construction adjacent to structures already on piled foundations (e.g. bridge support piers)
Sensitive serviceability limits for the embankment above
In these situations, the embankment is typically built on a piled foundation.
Paralink: strong and cost-effective
High strength Paralink® or MacGrid® WG geogrids, offering high strength with very low strain characteristics, used in conjunction with the piles, can take the place of the embankment foundation slab. These grids are placed in a single layer within a granular raft, immediately in contact with the pile caps.
The grids, with a design that lives in excess of 120 years, working in conjunction with the soils, absorb the forces transmitted from the embankment above, transferring them vertically into the supporting piles. The presence of the Paralink® enhances the overall piled embankment performance; the result is that the piles can be spaced wider apart, reducing costs.
Uses of MacTex. For less onerous or short-term conditions, MacTex® W woven polyester reinforcing geotextiles can be considered. We have implemented many piled embankment projects around the world making us a true leader in this application.
Tailor-made solutions. Using Maccaferri specific design software, MacBARS, and the capability to customize products within our factories (roll length, width, specific unit strength), we can optimize designs for our clients providing best value solutions.
Applications
Solutions