W STREET JUNCTION SHAFT, WASHINGTON D.C. - NORTH AMERICA - U.S.A.
SALINI IMPREGILO HEALY JV (Lane Construction - Webuild Group))
NORTHEAST BOUNDARY TUNNEL PROJECT – SHAFT PROTECTIVE NET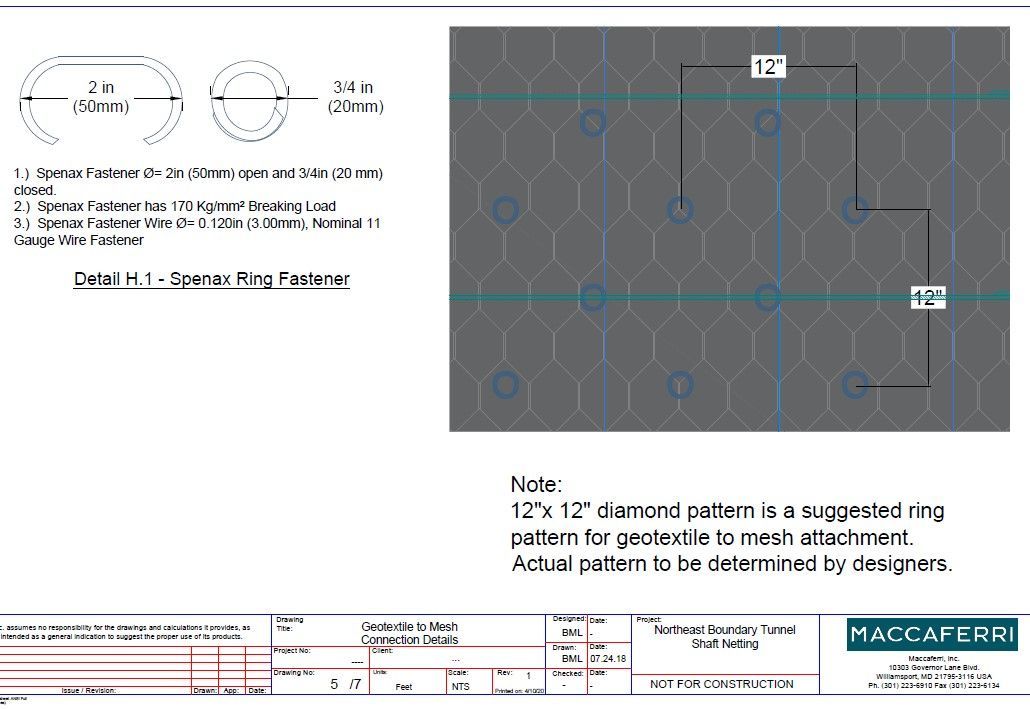 Geotextile to RockMesh3030 connection details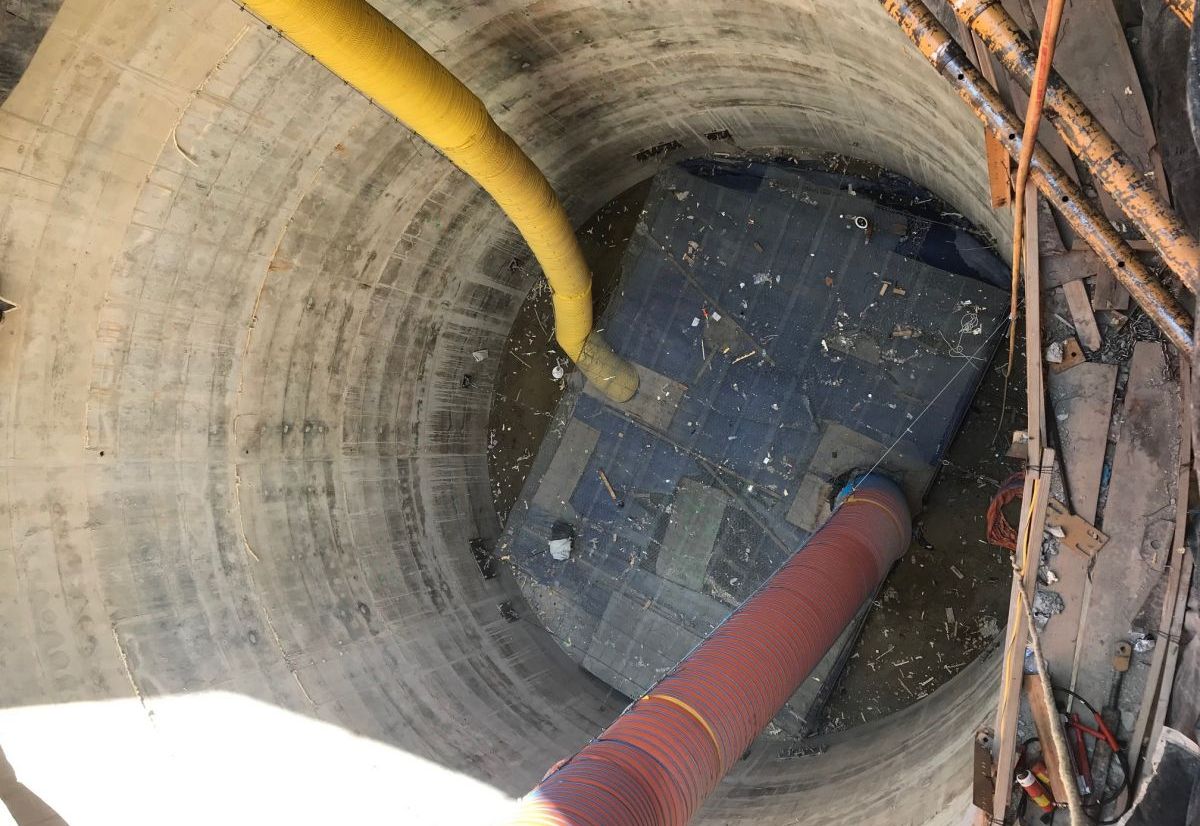 Shaft area protected using RockMesh3030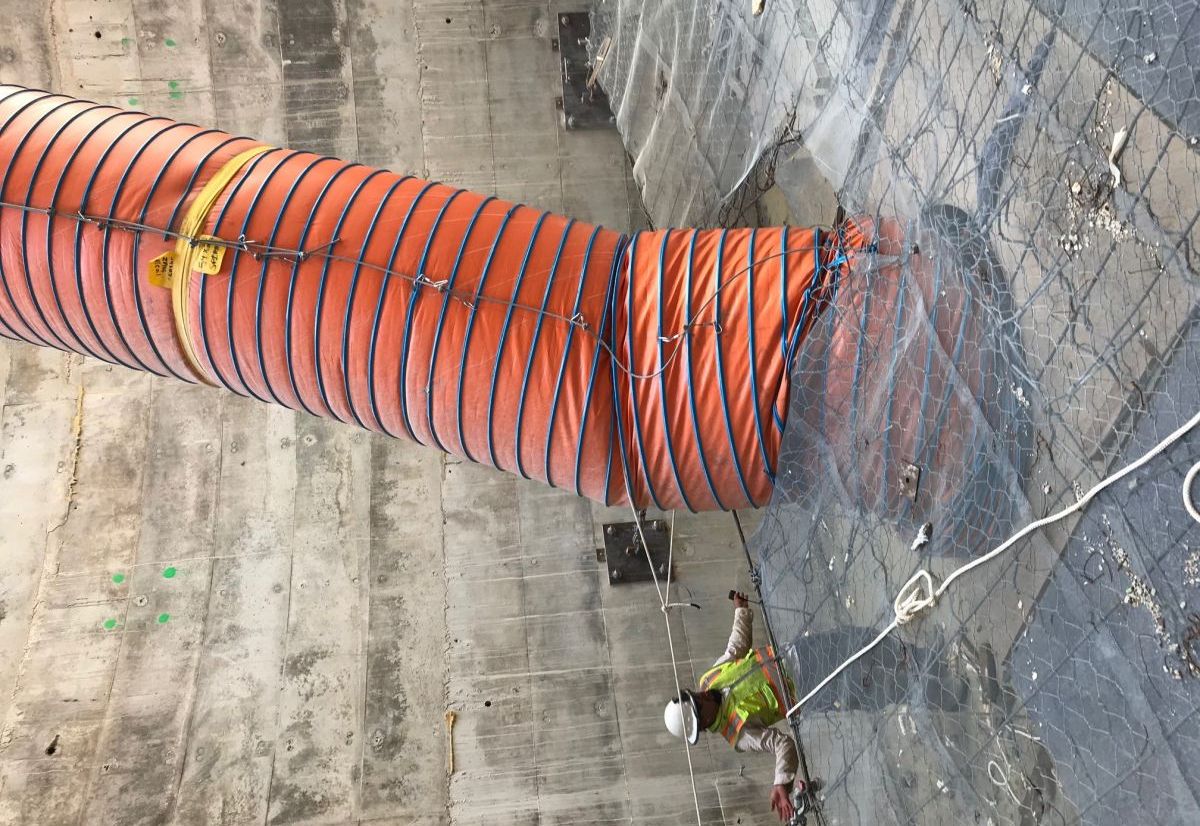 Detail of Rockmesh3030 protecting the shaft
During construction of Northeast Boundary Tunnel, a 5-mile CSO tunnel, a solution was needed to allow concurrent shaft works during tunneling operations after TBM break-out at WS-JS, an in-line junction shaft. The major risks related to the activities have been identified as following: 1) Rigging of heavy lifts (temporary rings to be removed, lowering of conveyor belt booster equipment, rails switch sections); 2) Objects and tools used for shaft works falling on tunnel working area; 3) Working in tight space with possible lack of fresh air or light;
To allow concurrent shaft works during TBM operations, a protective net has been installed on the CIP liner to cover the entire shaft area. Every sheet of the protective net consisted of a Maccaferri RockMesh 3030 and a 1/8" wire mesh cloth, provided to block any falling object or tool and sewed to the mesh by steel rings, as per the manufacturer's recommendations. Three sheets have been laced together and fixed on the CIP liner, and the level of the net adjusted based on construction progress and formwork position. Protective net has been supported by ¾" boundary steel cables, attached to the CIP liner by using 16 anchorage points, each one formed by a 20"x20"x1" plate, anchored to the permanent concrete structure by 4nos. 1.25" dia stainless steel epoxy anchors. Anchoring plates have been designed to the design load for ¾" net support cables used in the system. Installation of the protective net has been carried out by using a crane operated man basket. All anchors will be cut flush with the surrounding permanent structure prior to substantial completion.