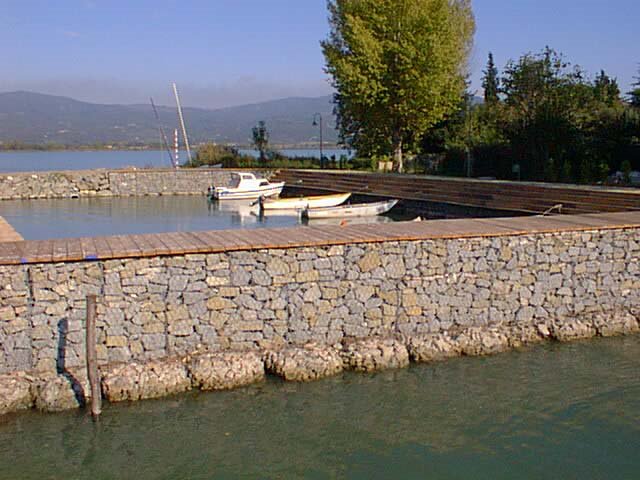 Quays, piers and jetties can be built and protected from erosion using our technical solutions. Maccaferri solutions have also been used within ports, marinas and intake/outfall structures. Smaller quays and tourist ports have long used quality woven mesh gabions as they are proven to integrate well into the environment and become inundated with marine life within a short time, in fact the voids rapidly form habitats for fish and crustaceans.
Maccaferri solutions to erosion and scour. Ship propellers and vessel movements cause erosion and scour adjacent to port structures, which we can overcome with our range of protection mattresses. These bottom and slope protection mats are typically constructed on-shore and lifted into place.
Appropriate protection of our products. When considering the durability of materials within marine environments, we are able to provide a range of products to suit the exposure conditions of the intervention including wave action, UV exposure and tidal zone. For the double twist wire mesh of gabions and mattresses, the protection includes a heavy duty zinc/aluminium galvanising with an additional polymer coating. For particularly aggressive conditions, mattresses made from stainless steel mesh or polymeric mesh can be used.
The value of correctly-designed geotextiles
Geotextiles play an important role within coastal works by providing the separation and filtration functions necessary at the meeting point between the new structure and the existing sea or estuary bed. Without a reliable and correctly designed filter layer, the structure above will not perform as designed.
Venice's MOSE project demonstrates our know-how. We draw upon our extensive geosynthetic portfolio and manufacturing know-how to use geotextiles and reinforcement materials in specific combinations to suit the project's technical requirements. Indeed, in the globally famous MOSE Project in Venice, we developed a specific ballasted filtering mattress (BFM) combining filtration and separation functionality within one system, as well as the deployment method using GPS technology. In contrast to other geotextiles however, it is heavier than water and can be deployed accurately under water.
Further development of our BFM. The BFM can limit settlement of breakwaters, groynes or other structures. This technology has recently been extended to offer a mattress that can also remediate polluted sediment areas.